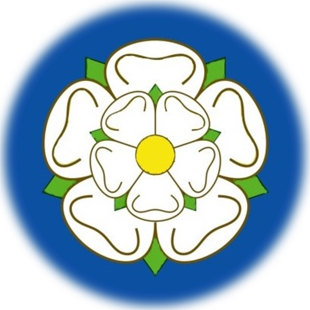 >
Yorkshire
A great place to start!
A big Yorkshire welcome to our expanding guide to the most scenically diverse region of the UK with Britain's favourite city at its heart.

Scroll down this page to get up to date with what is going on in Yorkshire and some of the newest additions to Yorkshire.guide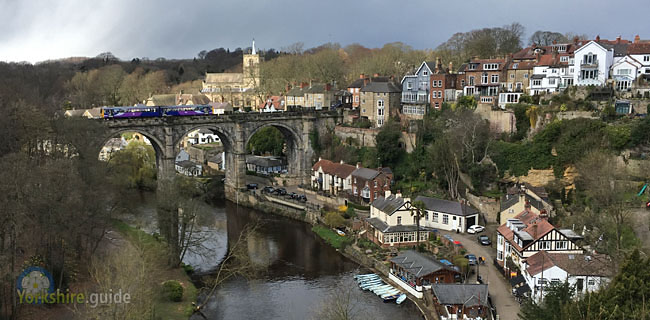 If you're new to Yorkshire see what it has to offer on our Introduction page.

---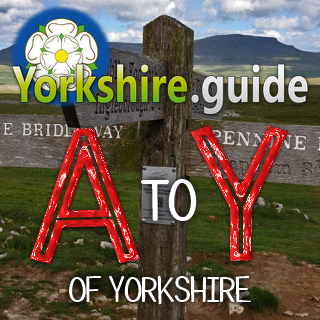 We have now added more than 1,000 places to our A to Y Gazetteer of Yorkshire. We've listed the cities and towns and now many of the villages, with links to pages providing more information or to pinpoint villages on our unique Yorkshire map.

---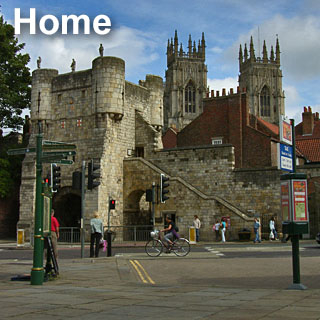 Home button links you to the many other sections of Yorkshire.guide>

---

And below, some of our newest items about Yorkshire issues and events in more detail .......

---
Ladies Day at Pontefract Races
Pontefract Races Pontefract Races will have an afternoon of glitz and glamour at its Ladies Day this Wednesday (August 4).

The event features both a Best Dressed Lady and a Best Dressed Gentleman Competition as well as seven races. The first race is at 2.00pm and the last 5.30pm.

More information at the

Pontefract Races website.



Pontefract



Whitby Traction Engine Rally
The Whitby Traction Engine Rally is held next to Whitby Abbey Steam power returns to the seaside town of Whitby in North Yorkshire when the Whitby Traction Engine Rally is held this Friday, Saturday and Sunday (August 6-8).

The event, being held next to the town's iconic Abbey, features steam engines, other classic vehicles, fairground organs, stunt shows, a song and dance act and a Saturday night firework display.



Whitby



Open air theatre reopens
Scarborough Open Air Theatre Scarborough's open air theatre has reopened with a crowd of thousands after being without a performance since 2019 during Coronavirus restrictions.

Stereophonics played the first gig last Wednesday evening (July 28), but 11 other artists are due to take to the Northstead Manor Gardens stage as the theatre quickly bounces back during August and September. Each taking to the stage for one night are the Kaiser Chiefs, Culture Club, Nile Rodgers & Chic, Keane, Olly Murs, UB40, Anne-Marie, Courteeners, James, Snow Patrol and Duran Duran.



Scarborough



Brighter days at the Yorkshire seaside
Staithes, North Yorkshire Saltburn-by-the-Sea is a Blue Flag beach Whitby has a Blue Flag beach Scarborough's North Bay is a Blue Flag beach Runswick Bay was named Britain's Best Beach in 2020 by The Sunday Times The beach at Hornsea is a Blue Flag beach Where better than to spend some family time this summer than at the Yorkshire seaside.

The resorts on Yorkshire's coast boast four international Blue Flag beaches, a dozen places with Seaside Awards and a village which was judged to have Britain's Best Beach in 2020.

And with some vast stretches of beaches, seaside villages and coastal paths there is plenty of space to be enjoyed away from the main town centres.

Find out more on our Seaside page.



Seaside
Yorkshire.guide/seaside
World Heritage Sites to enjoy in Yorkshire
Salt's Mill, Saltaire Fountains Abbey Studley Royal gardens Across the Pennines, Liverpool recently hit the headlines as it faced the unusual step of being stripped of its UNESCO World Heritage Site status after modern development changed the character of its famous waterfront.

Here in Yorkshire we are still looking after the heritage value of two UNESCO World Heritage Sites, both well-preserved and both well worth a visit.

One of those sites is the late 19th century village of Saltaire, in West Yorkshire, built for the workers of mill owner Sir Titus Salt.

The other World Heritage Site is Fountains Abbey and the Studley Royal Water Garden, near Ripon, in North Yorkshire. Fountains Abbey dates from the early 12th century and is Britain's most complete Cistercian abbey ruin. The gardens on the River Skell were a Georgian period addition featuring classical statues and follies. The estate is managed by the National Trust.



Saltaire

Fountains Abbey
North Yorkshire to become single-tier authority
The Government has changed and rechanged administrative boundaries in Yorkshire more in the last 50 years than in any previous period in Yorkshire history. And so the story continues as the Housing, Communities and Local Government Minister Robert Jenrick announced recently that the large district council authorities of North Yorkshire — created in 1974 — would disappear. The district councils and county authority will be replaced with a single-tier authority covering all the area currently served by the North Yorkshire County Council.

While the Government talks of "strengthening local leadership", "transforming the way services are delivered" and "offering better value for money", it does mean that a single authority pot of money is being stretched further in North Yorkshire than anywhere else in the country.

Read more on this North Yorkshire council changes page.


Signs Covid-19 cases are falling again after very high peak
Many districts are showing early signs that Yorkshire's fourth wave of the Covid-19 pandemic has reached its very high peak and the number of new cases is beginning to fall again in all areas. However, in some districts this is from the highest level at any time since the pandemic began.

See our Covid-19 update page for:

• Latest figures, the worst-hit places across Yorkshire and places with the lowest new infection rates.

• Information on vaccines. Vaccine programme now open to all those aged over 18, but millions will still be unvaccinated as restrictions are ended.

UK population unvaccinated 30%
UK adults unvaccinated 11%
Vaccination data up to August 1, 2021. Population based on 2020 estimates

• Links to latest Covid-19 statistics and useful further information.



Covid-19 update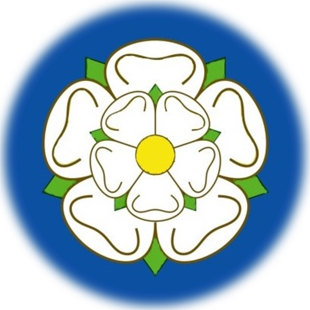 Do you know your Yorkshire?

Can you name the seven cities of Yorkshire?
Which were the first three to be recognised as cities?
For the answers see: Seven cities
---

How about the seven largest towns and cities of Yorkshire?
For the answer see: Largest towns and cities
---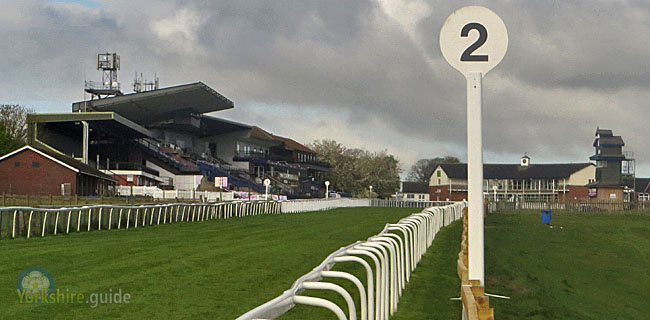 Where are the nine horse racecourses of Yorkshire?
Which of them stages the world's oldest classic race?
For the answers see: Racecourses
---

Which were the five highest-placed Yorkshire football teams in the 2020-21 season? End of season promotions and relegations saw which four Yorkshire teams moving in or out of the Championship?
To find the answers see: Yorkshire football
---

If a board game was to feature Yorkshire's four busiest railway stations, which would they be?
For the answer see: Railway stations
---

How many of Yorkshire's five highest mountains can you name?
For the answer see: Highest mountains
---

Where were the eight start and finish locations for the 2019 Tour de Yorkshire cycle races?
For the answer see: Tour de Yorkshire 2019
---

Based on district local authorities, where are the seven largest populations in Yorkshire?
For the answer see: Populations

On Ilkla Moor Baht 'at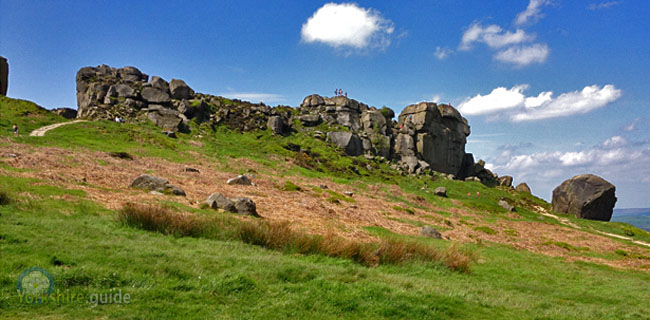 If you're from Yorkshire you will probably recognise our background picture as the Cow and Calf Rocks on Ilkley Moor, famous as the location of the Yorkshire dialect anthem "On Ilkla Moor Baht 'at". More on Ilkley.


Recent Yorkshire news topics
Batley and Spen Election 2021 : Labour hold seat in parliamentary by-election

---
High Street recovery : Huddersfield town centre at UK No1 for spending recovery.

---
Elections 2021 results : Regional round-up of all the local government elections.

---
Last launch of lifeboat : End of an era for Filey's all-weather rescue boat.

---
Minster commemoration : York prayers for Royal Family.

---
April 12 reopening : Big step in the return to Yorkshire attractions.

---
Bradford station site : Council plans to move station for faster rail service 7 minutes walk further away from centre.

---
Spring 2021 Budget : Yorkshire Freeports in Spring Budget.

---
Green Flag parks : High standards of Yorkshire parks and green spaces.

---
New airport terminal : Council backs Leeds Bradford Airport expansion plans.

---
News archive 2020: News from 2020.

---
News archive 2019: News from 2019.

---
News archive 2018: News from 2018.

---
News archive 2017: News from 2017.

---
Also in Yorkshire.guide
Home
Travel
Places to visit
Webcam
Map
Film locations
---