Bradford
West Yorkshire
City features



Bradford has long-awaited a 21st century shopping centre but, after a 10-year delay in creating its latest development, The Broadway is open with a mix of 70 stores and eateries adding to those remaining in the traditional heart of the city and its Kirkgate Centre, where there is also an indoor market. Nearby the former Rawson Market now has a host of mostly smaller shops as The Rawson Quarter. A wide variety of goods from smaller traders are also available in nearby streets and at The Oastler shopping centre.

---

Bradford has a Post Offices at Sunbridge Road and The Broadway and sub-post offices in its districts.

---

The city has a range of banks and building societies and it is also the location of the headquarters of the Yorkshire Building Society, which has its roots in Huddersfield and Bradford.

---

Bradford has many pharmacies in its city centre and in its districts.

---

Nightlife in Bradford has seen something of a revival in recent times with the opening of new bars and pubs while in the districts there are still friendly locals to be found.

---


It is not without good reason the Bradford has been named Curry Capital of Britain for five consecutive years. Bradford is celebrated for its award-winning asian cuisine.

---

Bradford ceased to be linked to waterways in 1922 when the Bradford Canal linking the city to the Leeds and Liverpool Canal at Shipley was closed. There are still, however some remains of the canal, which first opened in 1774.

---

Dozens of parks provide green lungs in and around the Bradford area. The city's largest parks include Lister Park in the Manningham area, which gained Britain's Best Park award in 2006; Peel Park, in the Undercliffe area; Bowling Park, which offers views over the city from between West Bowling and East Bowling; and Horton Park, about one mile south-west of the city centre.

---

Bradford Cathedral
Stott Hill
Initially the parish church of Bradford, its oldest parts date from 1458, but the parish history can trace earlier churches. The church became a cathedral in 1919 when a new diocese of Bradford was separated from that of Ripon. Major extensions and alterations were made to the cathedral in the 1950s.
More information at the

Bradford Cathedral website.

---
Entertainment
Alhambra Theatre
Morley Street
Close to the city centre and a premier touring venue for West End and other shows, the theatre offers ballet, musicals, opera, variety, comedy and drama. The Alhambra also has a reputation for Yorkshire's biggest pantomime. Adjacent to the Alhambra, The Studio is an adaptable small theatre and rehearsal space.

---
St George's Hall
Bridge Street
Bradford's historic concert hall has been closed for major renovation work since 2016 but is now taking bookings for concerts from February 2019.

---
Sport
Bradford City
'The Bantams' play at Valley Parade, the Coral Windows Stadium


Bradford City official website.
---
Bradford Bulls
Bradford Bulls play rugby league at The Provident Stadium, Odsal. The Bulls' women's team were 2017 Women's Super League leaders and winners of the first ever Women's Grand Final.


Bradford Bulls official website.
---
University
University of Bradford
City Campus, Richmond Road, and Emm Lane Campus
Founded in 1966, the University of Bradford has its main campus at Richmond Road just over half a mile to the west of the city centre. Its faculty of management and law is based at a parkland campus at Emm Lane around two miles north north west of the city centre.
More details at the

University of Bradford website.
---
Museums
National Science and Media Museum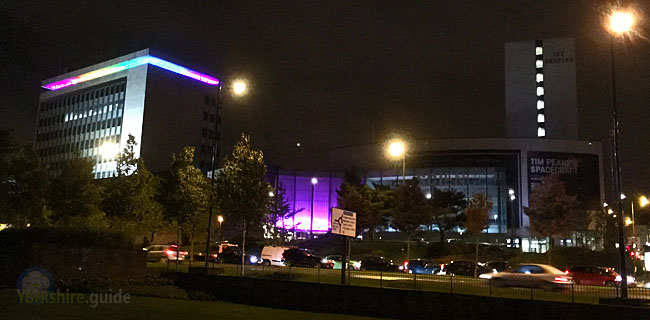 Pictureville, Little Horton Lane, Bradford
The museum near the city centre has galleries on seven floors and three cinemas, including Yorkshire's biggest IMAX screen. Galleries include Wonderlab, which features fun interactive experimentation with light and sound, there's a games lounge featuring retro computer games, hands-on experience of the development of television, a gallery on the history of photography, original models from Wallace and Gromit and Morph in the animation gallery, the chance to discover old films and rare TV programmes and a gallery on the impact of the internet. There are also changing media-related exhibitions. The museum is closed by 6pm each day, but its cinemas are open into the evening.
More details at the

National Science and Media Museum website.

---
Bradford Industrial Museum
Moorside Road, Eccleshill
The museum is housed in a Victorian worsted spinning mill, Moorside Mill, in Eccleshill, about 2 miles north east of the city centre. It has textile and engineering exhibits and displays of steam power, motor vehicles and printing machinery.
Further details at the

Bradford Industrial Museum website.
---
Bradford Police Museum
City Hall
At the site of what was Bradford's police station for 100 years, the museum has a vast range of memorabilia from the city's policing history and guided tours of the original police station cells and a preserved Victorian court room.
More information at the

Bradford Police Museum website.
---
Places to visit
---
Bolling Hall
Bowling Hall Road
About 1 mile south of Bradford, Bolling Hall is one of the city's oldest buildings with its earliest parts dating from the 14th century. The manor house has a rich history and has rooms furnished to represent many of the periods in its life.
More information at the

Bradford Museums - Bolling Hall website.
---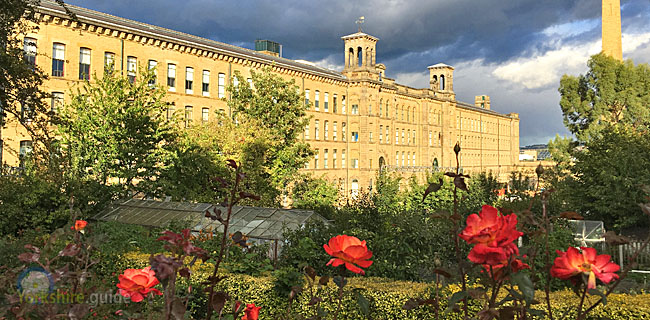 Saltaire
Near Shipley
About 4 miles north-north-west of Bradford, Saltaire village on the River Aire is a UNESCO World Heritage Site. The huge Salt's Mill, a former textile mill, is at the centre of a late 19th century village of stone houses which were built for the mill workers by architects employed by mill owner Sir Titus Salt. More information on our page about Saltaire.

---
Travel
Bradford Forster Square station
Forster Square
Bradford Forster Square, to the north of the city centre, offers local trains to Skipton, Ilkley and Leeds and is also the terminus of a daily Virgin East Coast service to London King's Cross.
Managed by: Northern.
Operator/s: Northern - LNER



Northern - Bradford Forster Square Station and departure information at Northern website.


Bradford Interchange station
Bridge Street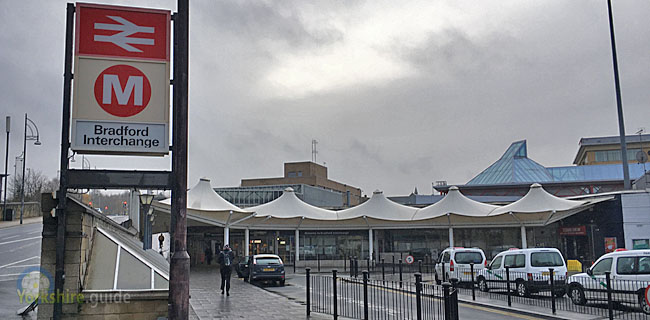 Bradford Interchange, to the south of the city centre, offers local trains to Leeds and Selby, to Halifax, Brighouse and Huddersfield and to Halifax and upper Calder Valley stations including Hebden Bridge continuing towards Manchester Victoria or Preston. It also the terminus of Grand Central train services to London King's Cross.
Managed by: Northern.
Operator/s: Northern - Grand Central -



Northern - Bradford Interchange Station and departure information at Northern website.

---
Bradford Interchange
Bridge Street
Most buses in Bradford and all inter-town services operate into Bradford Interchange, which is also the location of one of the city's two stations. A few local services not calling at the Interchange have stops at Hall Ings or Market Street.

---
Road travel
Bradford ring road is linked by the

M606

motorway to the

M62

which provides for east-west journeys across West Yorkshire and a route towards the

M1

. It also often provides a faster but less direct route to other big towns and cities in West Yorkshire.
---
Leeds Bradford Airport
Yeadon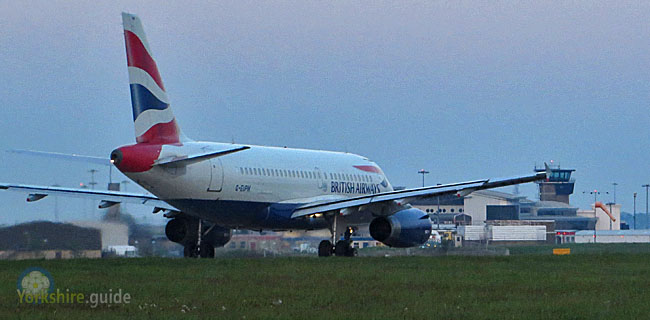 Offers national, European and international flights around 6 miles north east of Bradford city centre (8 miles by road).
737 and 747 buses run from Bradford Interchange to the airport in about 50 minutes.

Further details on our Air travel page.
More information at

Leeds Bradford Airport website.

---
The HS2 effect
Our new Yorkshire.guide study has assessed cities and major towns throughout the Yorkshire region for the benefits HS2 will bring in travelling from Yorkshire to London when the proposed section between the Midlands and Leeds is complete in 2033. The line is also planned to link to existing lines to Sheffield and York. Each city or town has been given one of three simple ratings based on convenience and time saved over existing services.


White elephant:
Takes the same time or longer than an existing service* or saves less than 10 minutes while now causing a change of trains. (* or HS2 completed to Manchester).

Coffee break:
Saves 10 to 45 minutes. Time for a cup of coffee at your destination rather than on the train?

City slicker:
Saves 45 minutes or more on existing service getting you to that all-important London meeting in good time.
We've been fairly generous to HS2 in making the assessment. Where a change of trains is now needed, we have assumed that you are on the fastest train to the station where you change to HS2, that it arrives on time, you have 10 minutes to change to the HS2 platform and an HS2 train is waiting to depart at that time. No assessment is made of additional journey costs possible in connecting to or travelling on HS2. The assessment is made on journeys from Yorkshire to London with again no account taken of any convenience or inconvenience in arrival at London Euston rather than London King's Cross station. Further details about our study can be found on The HS2 Effect page.
Bradford
HS2 would potentially cut 41 minutes from the fastest journeys to London from the city if catching the fastest train to Leeds and finding a perfectly timed connection there. It would, however, involve taking the standard service to Leeds and changing platforms, whereas direct services to London are available from Bradford stations at present.


Emergency services
West Yorkshire Police

West Yorkshire Police website.

West Yorkshire Fire and Rescue Service

West Yorkshire Fire and Rescue Service website.

Yorkshire Ambulance Service NHS Trust

Yorkshire Ambulance Service NHS Trust website.


Local government
Metropolitan district council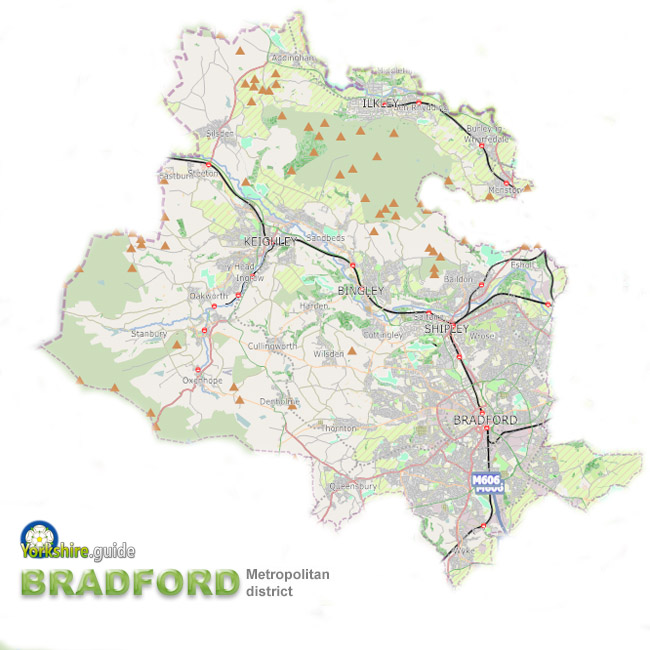 City of Bradford

The City of Bradford authority covers an area extending many miles beyond the city itself, including areas of moorland of The Pennines and Ilkley Moor, parts of Wharfedale and Airedale and the Worth Valley.

The area includes many separate small towns and villages, among them Addingham, Bingley,

Burley in Wharfedale, Haworth,

Idle, Ilkley, Keighley, Saltaire,

Shipley and

Silsden.

Councillors are elected across 30 wards with three councillors per ward.

One councillor per ward is elected for a four-year term on each of three years out of four.

Link to

City of Bradford MDC website.

The political composition in April 2019 was:


512192 2

BIG

2

TI

1

BI

1 1

QWI

The political composition after the May 2019 election is:


512292 2

BIG

2

TI

1

QWI

1

+

90 members BIG - Bradford Independent Group ; TI - The Independents; BI - Bingley Independent; QWI - The Queensbury Ward Independent; + awaiting result


---
County strategic authority
West Yorkshire Combined Authority
Covers some combined services of the five metropolitan district councils of West Yorkshire - Bradford, Calderdale, Leeds, Kirklees and Wakefield - which were at one time provided by a West Yorkshire metropolitan county council, with the addition of the non-contiguous City of York council and unelected Leeds City Region Enterprise Partnership.


West Yorkshire Combined Authority website.

---
Police and Crime Commissioner
The Police and Crime Commissioner for West Yorkshire


Police and Crime Commissioner West Yorkshire website.

---
Fire Authority
West Yorkshire Fire Authority
The fire authority is made up of elected members of each of the five metropolitan district councils of West Yorkshire - Bradford, Calderdale, Leeds, Kirklees and Wakefield.


West Yorkshire Fire Authority web pages.

---
Ceremonial county
West Yorkshire

---
Historic
Municipal borough 1847-1889
County borough 1889-1974 (within the West Riding of Yorkshire)
City charter from 1897

---
Also in Yorkshire.guide
New
Places to visit
Gazetteer
---