Hornsea
East Riding of Yorkshire
Hornsea Museum St Nicholas Church, Hornsea Market Place, Hornsea Set in the middle of the golden beaches of the East Riding of Yorkshire, Hornsea is a resort offering small town friendliness and the usual seaside facilities without the hustle and bustle of the bigger resorts.

Hornsea is 12 miles east-north-east of Beverley, 12 miles south of Bridlington, 13 miles south-east of Driffield and 13 miles north-east of Hull.

Hornsea has a long promenade on which there are facilities including a children's paddling pool and a few small shops selling ice creams, fish and chips, beach equipment and souvenirs. An indoor leisure centre with swimming pool, children's pool, sports hall and squash courts is also near to the beach. Lines of groynes along the beach and a sea wall have helped to protect it from the erosion which has over many years eaten away whole villages along the Holderness Coast.

The Mere, Hornsea The main shopping street of Hornsea sits between its sea front and Hornsea Mere, which is more than a mile long and is claimed to be Yorkshire's largest freshwater lake. The Mere is a location for bird-watching, fishing and the base for Hornsea Sailing Club.

Hornsea was recorded as a manor in the Domesday book and there is evidence of settlements in the area going back to prehistoric times, but the growth of the town came from its promotion as a seaside resort from the start of the 19th century, which was boosted by the arrival of a railway line from Hull in 1864. The station was closed 100 years later in 1964, leading to some decline in the accessibility of Hornsea, which is now reached only by buses, B-roads and its cycle trail.

South Promenade, Hornsea The former station building has been converted to part of a housing development, while the former trackbed now provides a route for cyclists on the Trans-Pennine Trail, a coast to coast route which linking Southport on the west coast with its destination on the South Promenade in Hornsea.

Hornsea was named Best Dressed Town for the 2018 Tour de Yorkshire cycle race.

At the southern end of the promenade is the Hornsea Boat Launch facility which caters for day visitors and those keeping their boats at the secure compound. To ensure people stay safe while enjoying the sea, the town has its own independent Hornsea Inshore Rescue service, formed in the 1990s with the support of local fundraisers when a Coastguard boat was withdrawn.

Hornsea has small hotels and bed and breakfast accommodation in which to stay, but as with much of the section of the Yorkshire coast, holiday homes and caravans are the most used holiday accommodation and there are plenty of these to the north and south of the town.


Town features
---
Hornsea Freeport

Hornsea has a sandy beach.

---

The town has traditional shops and galleries mingling with cafes and restaurants along the main street Newbegin to Market Place. On the south-western outskirts of the town, with a bus connection, is Hornsea Freeport, a designer outlet in a leafly garden landscape.

---

Hornsea has Post Office branches at Cliff Road and The Greenway.

---

Two bank branches in the town having recently closed, Hornsea has visits from a mobile bank for around 90 minutes on three days a week.

---

The town has a selection of pharmacies.

---

From pubs with a sea view to town centre inns, Hornsea has a selection of places to pause for a drink.

---

A variety of cafes, restaurants and takeaways can be found around Hornsea.

---

Takeaway food outlets in the town include fish and chips, pizzas, curries, chinese, sandwiches.

---

Hall Garth Park is an attractive central park in the town just behind its main shopping street.

---

Tourist information can be found at the Hornsea Museum (see below).

---

The town has inn and guest house accommodation, holiday homes and caravan parks.

---

Hornsea has public toilets with differing and seasonal opening hours at Hall Garth Park at Cinema Street, Marine Drive, Sands Lane and South Promenade Boat Compound. Check times before you need to go at the

East Riding public convenience finder webpage.

---

Places of worship: Anglican, Catholic, Methodist, United Reformed.

---
Some attractions and facilities described on this page may be closed to help prevent the spread of Coronavirus (Covid-19) and will not open as indicated. Many will be reopening on or around July 4. Upon reopening, some attractions may have new admission procedures, such as a timed ticket needing to be obtained before arrival. Clicking on links to the attraction operator's own website may provide more specific information about planned opening.
If you need the latest official UK government information on Coronavirus (Covid-19), including links to NHS advice and to what you currently can and cannot do in England, it can be found at this GOV.UK - Coronavirus webpage.
Entertainment
Floral Hall
Esplanade
The Floral Hall was opened in 1911 and remains Hornsea's venue for live events. It has been rescued by volunteers since 2012 after being acquired from East Riding of Yorkshire Council. It offers a cafe and a host of entertainment from drama to rock and roll, summer pantomimes to Ibiza club nights, antique fairs and auctions to film nights.

---
Museums
Hornsea Museum
Hornsea Museum
Newbegin, Hornsea
Based in the buildings of an 18th century farm in the main street of Hornsea, the museum has a wealth of information about the area, including childhood toys, militaria, the history of Hornsea's railway, fishing and a large collection of the famous Hornsea Pottery, which was made between 1949 and 2000. The museum holds regular craft and music activities and also hosts group and school visits. Check the website for seasonal opening times, but to have time to see round the museum the last entry time tends to be about 3pm each day.

More information at the Hornsea Museum website.
---
Places to visit
Skipsea Castle
Skipsea Castle
off Beeford Road, Skipsea, East Riding of Yorkshire
Very little but earthworks remain of Skipsea Castle and its adjacent fortified borough Skipsea Brough, but it was one of the earliest Norman fortifications in Yorkshire, built around 1086 for the Lord of Holderness, a title granted by William the Conquerer with land stretching along the coast from the Humber to Bridlington. The site is in the attractive village of Skipsea, about 5 miles north-north-west of Hornsea. The motte and bailey castle was destroyed in the early 13th century, but its large earth mound is still clearly visible. There is free entry to the castle site, which is managed by English Heritage.

More information at these

English Heritage - Skipsea Castle web pages.
Find on map:

Skipsea Castle
---
Burton Constable
Burton Constable, Skirlaugh
Burton Constable is an Elizabethan mansion situated about 9 miles by road south of Hornsea and a similar distance north-east of Hull. Most of the house dates from 1560, although it includes part of a 12th century tower and remains of an earlier brick manor house from the late 15th century. Tours of the house explore up to 30 rooms fitted with original collections and interiors surviving from days as a much-loved family home. The house also has an 18th century orangery, gift shop, play area, gardens and parkland landscaped between 1772 and 1782 by Lancelot 'Capability' Brown. The stable block has been restored and its Great Barn exhibits the remains of a whale skeleton brought to Burton Constable after being washed up on the shore at Tunstall on the Holderness coast in 1825. A variety of feature events are held at the hall including musical events, sculpture, a classic car show and demonstrations of country house brewing and crafts. The house, the home of the Constable family for more than 700 years and still partly occupied, is now a museum owned by the Burton Constable Foundation.
For more information see the

Burton Constable website.
Locate on map:

Burton Constable
---
Travel
Bus travel
Buses link Hornsea to Hull, to Skipsea, Ulrome and Bridlington, to Aldbrough and Withernsea and to Hornsea Freeport. Services run to the East Yorkshire depot just outside the town centre and near to the caravan parks at Cliff Road, but also conveniently stop at Marine Drive, New Road, Newbegin and Market Place.
Services in Hornsea are operated by East Yorkshire Motor Services

Road travel
Hornsea can be reached from the direction of Beverley and Hull via the

B1244

, from the direction of Bridlington, Ulrome and Skipsea via the

B1242

, and from the direction of Withernsea and Aldbrough also via the

B1242

. Car parking is available around the town with a car park close to the beach.
---
Emergency services
Humberside Police

Humberside Police website.

Humberside Fire and Rescue Service

Humberside Fire and Rescue Service website.

Yorkshire Ambulance Service NHS Trust

Yorkshire Ambulance Service NHS Trust website.

HM Coastguard

Coastguard - Coastal safety webpage.


Local government
Town council (civil parish)
Hornsea Town Council
The town council is formed of 14 members, elected in two wards and has a limited range of responsibilities including maintaining parks and gardens in the town, its floral displays and weddings and burials. The council appoints a Mayor of Hornsea and a deputy mayor. The Town Hall is in Newbegin.


Hornsea Town Council website.

---
Unitary authority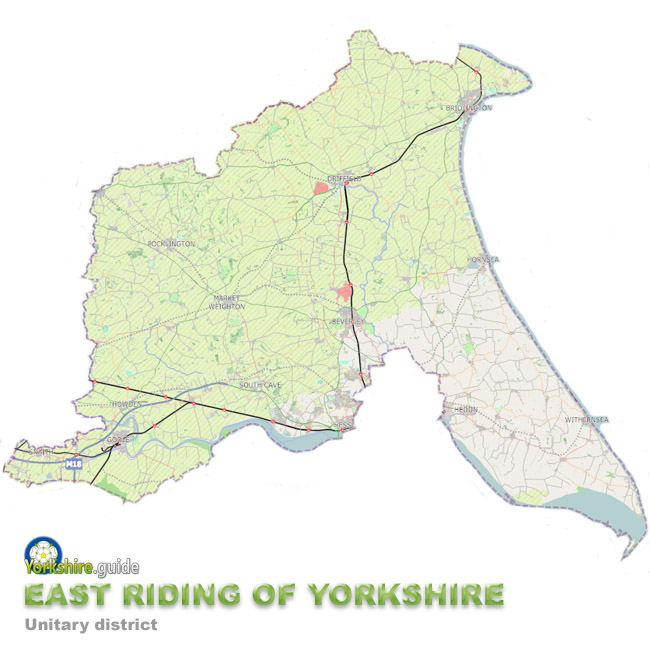 East Riding of Yorkshire Council

The East Riding of Yorkshire Council is now a unitary district rather than a county authority but the least changed of any of the historic Ridings of Yorkshire.

It does now cover a small part of the former West Riding, while it has lost portions of the historic East Riding to North Yorkshire and York.

County Hall, Beverley Beverley is the county town of the East Riding of Yorkshire and the location of its County Hall.

Other towns in the East Riding include Bridlington Driffield Goole Market Weighton Hedon Hornsea Howden Pocklington Snaith and Withernsea.

The authority covers a near full range of council services, except the limited services handled by the various civil parish/town councils which exist throughout its area.

The 26 wards in the authority each elect one, two or three councillors to make up a 67 member council. An election for the entire council is held every four years with the most recent election in 2019.


The political composition after the May 2019 election was:
67 members
---
Police and Crime Commissioner
The Police and Crime Commissioner for Humberside


Police and Crime Commissioner for Humberside website.

---
Fire Authority
Humberside Fire Authority
Humberside Fire Authority
The fire authority is made up of elected members of each of the four unitary authorities served by the Humberside Fire and Rescue Service - East Riding of Yorkshire, Hull, North East Lincolnshire and North Lincolnshire.


Humberside Fire Authority website.

---
Ceremonial county
East Riding of Yorkshire

---
Historic
-1889 East Riding of Yorkshire (historic admistrative division)
1889-1974 East Riding of Yorkshire (county authority)
1974-1996 Holderness Borough Council (district within the artificially-created county of Humberside)


---
Also in Yorkshire.guide
Home
Travel
Places to Visit
---