Beverley
East Riding of Yorkshire
Beverley Minster Flemingate shopping centre, Beverley Market Place, Beverley Beverley is the county town and principal market town of the East Riding of Yorkshire.

The town is 8 miles north-north-west of Kingston upon Hull, 11 miles south of Driffield, 12 miles west-south-west of Hornsea, 19 miles south-west of Bridlington and 28 miles east-south-east of York.

Beverley started with a monastery in the 8th century and the town which developed saw early growth into one of the largest in the country through its wool trade and as a place of pilgrimmage for visitors to the tomb of St John of Beverley, still sited within the impressive Beverley Minster, which is among the country's finest church buildings.

At North Bar is the only surviving historic gateway from those which once guarded the entries to Beverley. It was built by the Town Council back in 1409.

The town has recently been remodelled creating a new Flemingate shopping centre with a hotel, cinema and a new pedestrian shopping street aligned towards the Minster but at the opposite side of the railway line to the traditional town centre, so as not to disturb the Georgian and Victorian buildings of the attractive main street and its Market Place which has an elaborate market cross, built in 1714, as its centrepiece.

Events in the town include a variety of festivals, usually including the Beverley Folk Festival at Beverley Racecourse, although this was cancelled in 2018; a Beverley Puppet Festival, next expected to take place in July 2020

Beverley Puppet Festival; a Beverley Food Festival in the Market Place; and a Christmas Festival of Food and Drink.

While the town is set in the landscape of the arable agriculture of the East Riding, the bread-basket of Yorkshire, Beverley can also count shipbuilding among one of its past staple industries. Boats, including many trawlers, were built in Beverley and were navigated down the River Hull to the port of Kingston upon Hull.

Beverley also has an aircraft named after it. The Blackburn Beverley transport aircraft were built at Brough, 10 miles south-west of Beverley, and flew between 1950 until being retired from Royal Air Force duties in 1967.


Town features
---
Market Place, Beverley

Beverley has a wide variety of shopping opportunities, from its Saturday and Wednesday markets and attractive traditional high street shopping to the new Flemingate shopping centre with its range of big name stores.

---

Beverley post office is in Register Square. There are also post offices branches in neighbouring villages.

---

The town has bank and building society branches.

---

Beverley has several pharmacies.

---

Pubs in Beverley range from refurbished old coaching inns to the modern real ale micropub.

---

The town offers quality eating from good pub food to dining at its inns and restaurants.

---

Beverley Library is at the Treasure House, Champney Road.

---

There is a museum and art gallery at the Treasure House, Champney Road. More details below.

---

For theatre details see below.

---
Former windmill at the Westwood, Beverley

Westwood is one of Beverley's historic common pasture lands now acting as a vast open park near to the racecourse and with pleasant views across the town. The remains of two old windmills remain on the Westwood, one is at the location of the Beverley and East Riding Golf Club clubhouse.

---

Beverley Beck is a short canal, just under a mile long, which links Beverley to the navigable River Hull. The beck had been navigable from the 14th century, but became a canal when a lock and pump were installed in 1802 as part of a land drainage scheme.

---

The River Hull runs about a mile to the east of the town centre.

---

Beverley Tourist Information Centre is in Butcher Row.

---

The town has hotel and guest house accommodation and a youth hostel.

---

Beverley has public toilets with various limited opening hours at Dyer Lane, Lord Roberts Road and at railway and bus stations. Check times before you need to go at the

East Riding public convenience finder webpage.

---

Beverley has several schools.

---

Places of worship: Anglican, Catholic, Methodist, United Reformed, Baptist, other.

---
Queen Victoria, Beverley Minster
Beverley Minster

Beverley Minster, or the Parish Church of St John and St Martin, is built on the site of a monastery founded in the 8th century by John, Bishop of York, who died in Beverley in 721. He is credited with founding the town of Beverley. He became St John of Beverley after he was canonised more than 300 years after his death and the church is built around his tomb which was a place of pilgrimage. Work started on the present church after the collapse of the tower of the Norman church on the site in 1214. Saved by wealthy businessmen from destruction in the 16th century, the Minster saw restorations in the 18th and 19th century and around the turn of the 19th and 20th centuries more than 100 statues were placed on the west towers and other statuettes inside the minster together with new stained glass windows. The first of the statues, in 1897, was of Queen Victoria, to commemorate her Diamond Jubilee.



The year 1897 was also when the Roman Catholic Church of St John of Beverley was built in Victorian Gothic style just outside the North Bar gate at North Bar Without. The Roman Catholic diocese covering the whole of Yorkshire was from 1850 known as the Diocese of Beverley, although its cathedrals were in York. The diocese was split into the dioceses of Leeds and Middlesbrough in 1878, Beverley now being in the Diocese of Middlesbrough.

St Mary's Church, Beverley

While Beverley Minster dominates one end of the town centre, Beverley also has a very impressive anglican parish church with great architectural interest at the other end of the town. St Mary's Church is situated at the junction of Hengate and North Bar Within. The building of the church started in 1120 and culminated in 1524 after the rebuilding of its tower which collapsed four years earlier. It was given a major restoration in the mid 19th century.

---
Some attractions and facilities described on this page may be closed to help prevent the spread of Coronavirus (Covid-19) and will not open as indicated. Many will be reopening on or around July 4. Upon reopening, some attractions may have new admission procedures, such as a timed ticket needing to be obtained before arrival. Clicking on links to the attraction operator's own website may provide more specific information about planned opening.
If you need the latest official UK government information on Coronavirus (Covid-19), including links to NHS advice and to what you currently can and cannot do in England, it can be found at this GOV.UK - Coronavirus webpage.
Entertainment
East Riding Theatre
Lord Roberts Road, Beverley
The East Riding Theatre, opened in December 2014 in what was originally built as a Baptist Chapel. It is run by a not-for-profit organisation supported by volunteers and provides an inspiring selection of theatre, music, comedy and literature. It also provides one of the venues of the annual Beverley Puppet Festival.

---
Sport
Beverley Racecourse
Beverley Racecourse
York Road about a mile from the centre of Beverley.
The racecourse holds regular race meetings in season and is also a venue for other events, including auctions. The racecourse traces its first grandstand back to 1767.

---
Museum
East Riding Treasure House and Beverley Art Gallery
Champney Road, Beverley
A collection of iron age swords found at South Cave in 2002 is among permanent exhibits at the museum, which also stages temporary exhibitions reflecting various aspects of the history of the East Riding. The museum is linked to a gallery with a collection of art works showing the great and the good of the East Riding.

---
Places to visit
Burton Constable
Burton Constable, Skirlaugh
Burton Constable is an Elizabethan mansion situated about 9 miles by road south of Hornsea and a similar distance north-east of Hull. Most of the house dates from 1560, although it includes part of a 12th century tower and remains of an earlier brick manor house from the late 15th century. Tours of the house explore up to 30 rooms fitted with original collections and interiors surviving from days as a much-loved family home. The house also has an 18th century orangery, gift shop, play area, gardens and parkland landscaped between 1772 and 1782 by Lancelot 'Capability' Brown. The stable block has been restored and its Great Barn exhibits the remains of a whale skeleton brought to Burton Constable after being washed up on the shore at Tunstall on the Holderness coast in 1825. A variety of feature events are held at the hall including musical events, sculpture, a classic car show and demonstrations of country house brewing and crafts. The house, the home of the Constable family for more than 700 years and still partly occupied, is now a museum owned by the Burton Constable Foundation.
For more information see the

Burton Constable website.
Locate on map:

Burton Constable
---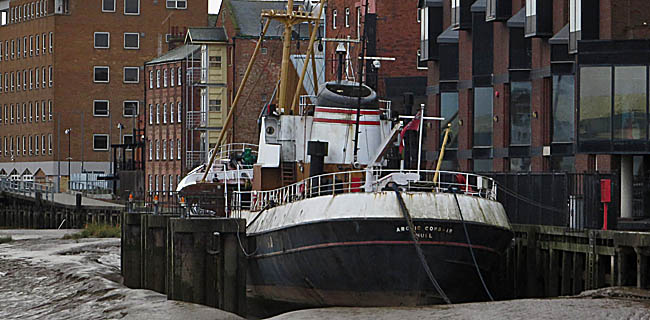 Arctic Corsair

Arctic Corsair is closed from August 2019 for relocation and restoration.
Rear of Streetlife Museum of Transport, High Street, Hull
The Arctic Corsair, a sidewinder trawler, was built at Beverley Shipyard in 1960 and spent its days going to sea from Hull, where it now remains as a museum exhibit. Tours can be booked at the Museums Quarter reception at High Street in Hull on certain days. The trawler was involved in the 'Cod Wars' with Iceland in the 1970s and retired from fishing in 1987.

---
Skipsea Castle
Skipsea Castle
off Beeford Road, Skipsea, East Riding of Yorkshire
Very little but earthworks remain of Skipsea Castle and its adjacent fortified borough Skipsea Brough, but it was one of the earliest Norman fortifications in Yorkshire, built around 1086 for the Lord of Holderness, a title granted by William the Conquerer with land stretching along the coast from the Humber to Bridlington. The site is in the attractive village of Skipsea, about 5 miles north-north-west of Hornsea. The motte and bailey castle was destroyed in the early 13th century, but its large earth mound is still clearly visible. There is free entry to the castle site, which is managed by English Heritage.

More information at these

English Heritage - Skipsea Castle web pages.
Find on map:

Skipsea Castle
---
Travel
Beverley station
Station Square
Beverley station Beverley station has two through platforms. Trains run on the line from Scarborough and Bridlington through Beverley to Hull, which is about 15 minutes away. Some trains continue to Doncaster and Sheffield. Hull Trains run one early morning train a day via Hull to London King's Cross with an evening return.
Station managed by: Northern.
Operators: Northern - Hull Trains -



Northern - Beverley Station and departure information at Northern website.

---
Beverley bus station
Sow Hill Road
Buses operate from Beverley bus station to nearby and resort towns, including to Hull, to Scarborough via Driffield, Bridlington and Filey, to York, to Hornsea and to Withernsea, together with local services around Beverley.

---
Road travel
Beverley is linked towards Kingston upon Hull by the

A1079

, towards Hessle and the Humber Bridge by the

A164

, towards Hornsea and Bridlington by the

A1035

and towards Driffield by the

A164

. The roads, together with the

A1174

, link together to provide a by-pass around the town centre. The

B1230

heads towards the M62 at North Cave.
---
Emergency services
Humberside Police

Humberside Police website.

Humberside Fire and Rescue Service

Humberside Fire and Rescue Service website.

Yorkshire Ambulance Service NHS Trust

Yorkshire Ambulance Service NHS Trust website.


Local government
Town council (civil parish)
Beverley Town Council
The town council is made up of 14 councillors elected across four wards. The Town Mayor of Beverley is elected each year by the councillors and acts as council chairman and ambassador for the town. A deputy mayor is also elected. The council represents Beverley on other bodies, runs a small range of services including allotments, supports community events such as Beverley Food Festival, Beverley in Bloom and the town's Christmas lights and provides a grants fund to community organisations. The council is based in Well Lane.
Link to

Beverley Town Council website.

---
Unitary authority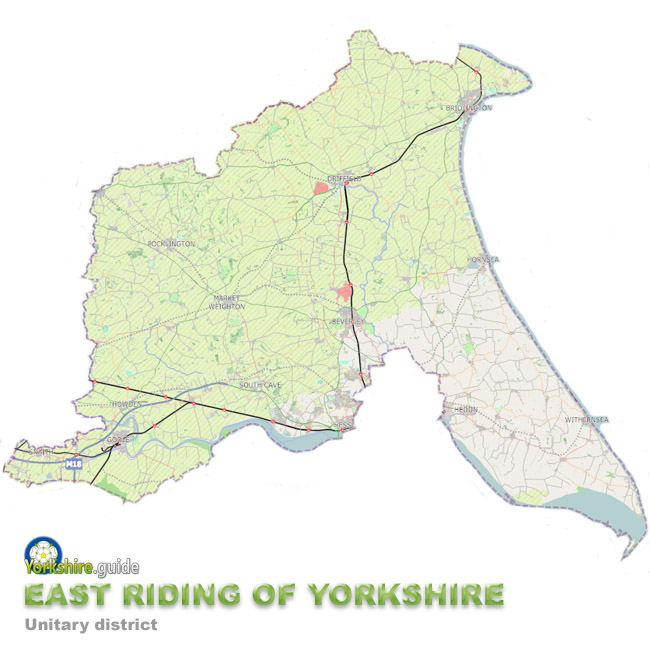 East Riding of Yorkshire Council

The East Riding of Yorkshire Council is now a unitary district rather than a county authority but the least changed of any of the historic Ridings of Yorkshire.

It does now cover a small part of the former West Riding, while it has lost portions of the historic East Riding to North Yorkshire and York.

County Hall, Beverley Beverley is the county town of the East Riding of Yorkshire and the location of its County Hall.

Other towns in the East Riding include Bridlington Driffield Goole Market Weighton Hedon Hornsea Howden Pocklington Snaith and Withernsea.

The authority covers a near full range of council services, except the limited services handled by the various civil parish/town councils which exist throughout its area.

The 26 wards in the authority each elect one, two or three councillors to make up a 67 member council. An election for the entire council is held every four years with the most recent election in 2019.


The political composition after the May 2019 election was:
67 members
---
Police and Crime Commissioner
The Police and Crime Commissioner for Humberside


Police and Crime Commissioner for Humberside website.

---
Fire Authority
Humberside Fire Authority
The fire authority is made up of elected members of each of the four unitary authorities served by the Humberside Fire and Rescue Service - East Riding of Yorkshire, Hull, North East Lincolnshire and North Lincolnshire.


Humberside Fire Authority website.

---
Ceremonial county
East Riding of Yorkshire

---
Historic
-1889 East Riding of Yorkshire (historic admistrative division)
1889-1974 East Riding of Yorkshire (county authority)
1974-1981 Borough of Beverley (district within the artificially-created county of Humberside)
1981-1996 East Yorkshire Borough of Beverley (renaming of the above)

---
Also in Yorkshire.guide
Home
Travel
Places to Visit
---