Halifax
West Yorkshire
Town features
---



Halifax's attractive and compact town centre has a smart and traditional feel about it with a Victorian market hall, the Halifax Borough Market, as its centrepiece and plenty of local shopkeepers as well as the usual high street chains in the streets around it. The outdoor Woolshops Shopping Centre and the covered Westgate Arcade blend into the local street scene and offer a wider range of shops. Halifax also has supermarkets in and around the town and out-of-town shopping sites.

---

The town's main Post Office is in Market Street. There are also branch office in some districts.

---

The town has pharmacies in its town centre and around its districts

---

Halifax has bank and building society offices.

---

A broad selection of pubs and bars bring a busy nightlife to the town centre while in the districts and villages around Halifax the selection ranges from local hostelries to village inns.

---


Halifax has a selection of cafes, coffee shops and restaurants, while there is also good food to be found in inns and pubs in the town and its nearby districts and villages.

---


For theatres and museums in Halifax see below.

---

The Halifax Central Library is in Square Road. Halifax also has branch libraries in some of its districts.

---

There are many schools and colleges in and around the town and its districts.

---

Places of worship: Anglican, Catholic, Methodist, Baptist, Islamic, Buddhist, other.

---

The Minster Church of St John the Baptist, or Halifax Minster, is at Causeway and near to Church Street. A church is thought to have existed on the site since at least the early 12th century. The current church is a grade I listed medieval church mostly dating from the 15th century although there have been further renovations since that time. Formerly Halifax Parish Church, it was given Minster status in 2009.
Further details at the

Halifax Minster website.
---

The Hebble Brook flows around the lower eastern edge of Halifax. The town is about 1.5 miles north of the valley of the River Calder at Salterhebble.

---
Entertainment
The Victoria Theatre
Fountain Street
The theatre with seating for more than 1,500 provides a stage for top comedy and music acts as well as supporting community-orientated productions and activities.

Square Chapel Arts Centre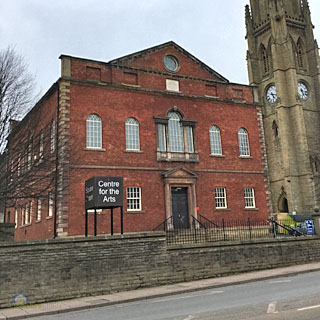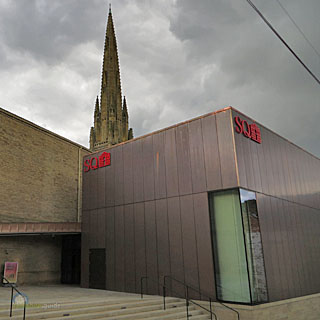 Square Road, adjoining the Piece Hall
The Square Chapel Arts Centre provides a multi-purpose performing arts venue for theatre, film, live music, family shows, workshops and more in a converted Grade II listed red brick Georgian chapel dating from 1772. The centre has seating for 220 in its main auditorium.

---
Sport
FC Halifax Town
'The Shaymen' play at The Shay.


FC Halifax Town official website.
---
Halifax RLFC
'Fax' play at The Shay.


Halifax RLFC official website
---
Museums
Eureka! The National Children's Museum
Discovery Road, Halifax
This modern museum near to Halifax railway station is full of interactive exhibits in themed galleries aimed at inspiring younger children to learn.
More information at

Eureka! website.

---
Calderdale Industrial Museum
Square Road, Halifax
Situated next to the Piece Hall, Calderdale Industrial Museum is run by volunteers aiming to preserve and share the industrial heritage of Calderdale. The museum includes a collection of machinery and displays representing a cross-section of industries of the area, including mining, quarrying, cloth and carpet manufacturing and toffee-making. The museum opens on Saturdays.
Find out more at the

Calderdale Industrial Museum website.
---
Bankfield Museum
Akroyd Park, Boothtown Road
Housed in a Victorian mansion in Akroyd Park, the Bankfield Museum has been telling the story of Halifax since 1887, covering local history and the town's textile industry among its many subjects as well as housing temporary exhibtions. The museum is managed by Calderdale Council museums.
Further information at the

Calderdale Museums - Bankfield Museum web page.
---
Duke of Wellington's Regiment Museum
Akroyd Park, Boothtown Road
The museum located within the Bankfield Museum provides more than 300 years of history of the Duke of Wellington's Regiment Museum since it was formed in 1702.
More information at the

Duke of Wellington's Regiment Museum web page.
---
Places to Visit
Shibden Hall
Shibden Hall Shibden Hall Road, Halifax
The hall, dating from 1420, is located alongside Shibden Park, which was formed from its estate. Exploring the house reveals a variety of architecture from the various periods of its history and an insight into the people who lived there over the years. One of those was Anne Lister, whose diaries in the early 18th century were the inspiration of the recent BBC period drama series "Gentleman Jack", written by Sally Wainwright. Much of the series was filmed in the real-life location at Shibden Hall. The house also has a 17th century barn housing a carriage collection. Shibden Hall is managed by Calderdale Council museums.
For more information see the

Calderdale Museums - Shibden Hall web page.
Locate on map:

Shibden Hall
---
Wainhouse Tower
Wakefield Gate, off Skircoat Moor Road, King Cross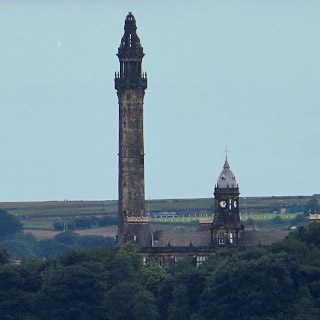 This facscinatingly ornate 77 metre (253 foot) tower overlooks the Calder Valley in the King Cross area of Halifax, 1.5 miles south-west of the centre. Although many legendary tales have developed about its construction, it was started as an elaborate mill chimney but finished as a folly. On bank holidays it is open to vistors, who can pay a small fee to climb its internal spiral staircase.
Locate on map:

Wainhouse Tower
---
Piece Hall
Westgate
This historic Grade I listed market hall was built in Halifax town centre by the manufacturers and merchants of the Halifax cloth industry in 1779 with classical collonades and a great courtyard. It is now the only surviving cloth hall in the country and is a scheduled ancient monument. The Piece Hall reopened to the public on Yorkshire Day 2017 after a £19m major modernisation by Calderdale Council, supported by the Hertiage Lottery Fund. Modern paving and lighting has provided a town square at the centre of the historic building which has refurbished trading rooms housing small shops and history exhibits. Around the Piece Hall more than £40m is being spent in a Piece Hall Quarter including a modern Central Library and Archive appended to the old Square Church spire.

---
Travel
Halifax
Horton Street
Halifax railway station is a stop for Northern services operating from Leeds and Bradford on to the Calder Valley line westwards to Sowerby Bridge,

Mytholmroyd, Hebden Bridge, Todmorden and towards Manchester Victoria or Burnley, Blackburn, Preston and Blackpool. Services also head towards Brighouse and Huddersfield. Grand Central services from Bradford to London King's Cross also stop at Halifax and Brighouse.

Station managed by: Northern.
Operators: Northern - Grand Central -



Northern - Halifax Station and departure information at Northern website.

---
Halifax bus station
Winding Road
Most inter-town buses and many local services operate into the bus station in Winding Road, although there are also stops in town centre streets. Among the services are buses to Bradford, Dewsbury, Huddersfield, Leeds and Ripponden and also to Rochdale in Greater Manchester and Burnley in Lancashire.
---
Road travel
Halifax is at the meeting point of several major roads, including the

A58

running from the Calder Valley to Leeds and the

A629

running from beyond Huddersfield towards Keighley and Skipton. Bradford is reached via the

A6036

which branches from the

A58

at Stump Cross, just over a mile from the centre of Halifax, or on the A647 which goes via Queensbury.
The

M62

eastbound is 6.5 miles away, reached at junction 26 via the

A58

. The

M62

westbound is 5.5 miles away, reached at junction 24 via the

A629

. Main roads bypass Halifax town centre around its western edge and northern side, where the tall concrete flyover bridges of Burdock Way tower over the town's older bridges to cross the valley of the Hebble Brook.
Pay and display parking operates on street and in car parks. At The Woolshops Shopping Centre there is pay on foot parking.
---
The HS2 effect
Our new Yorkshire.guide study has assessed cities and major towns throughout the Yorkshire region for the benefits HS2 will bring in travelling from Yorkshire to London when the proposed section between the Midlands and Leeds is complete in 2033. The line is also planned to link to existing lines to Sheffield and York. Each city or town has been given one of three simple ratings based on convenience and time saved over existing services.


White elephant:
Takes the same time or longer than an existing service* or saves less than 10 minutes while now causing a change of trains. (* or HS2 completed to Manchester).

Coffee break:
Saves 10 to 45 minutes. Time for a cup of coffee at your destination rather than on the train?

City slicker:
Saves 45 minutes or more on existing service getting you to that all-important London meeting in good time.
We've been fairly generous to HS2 in making the assessment. Where a change of trains is now needed, we have assumed that you are on the fastest train to the station where you change to HS2, that it arrives on time, you have 10 minutes to change to the HS2 platform and an HS2 train is waiting to depart at that time. No assessment is made of additional journey costs possible in connecting to or travelling on HS2. The assessment is made on journeys from Yorkshire to London with again no account taken of any convenience or inconvenience in arrival at London Euston rather than London King's Cross station. Further details about our study can be found on The HS2 Effect page.
Halifax
Halifax falls into the 'white elephant' category for the Leeds arm of HS2 only on the basis HS2 will be built first to Manchester. Travelling via HS2 at Leeds would then shave less than 10 minutes off the time of travelling via HS2 from Manchester.


Emergency services
West Yorkshire Police

West Yorkshire Police website.

West Yorkshire Fire and Rescue Service

West Yorkshire Fire and Rescue Service website.

Yorkshire Ambulance Service NHS Trust

Yorkshire Ambulance Service NHS Trust website.


Local government
Metropolitan district council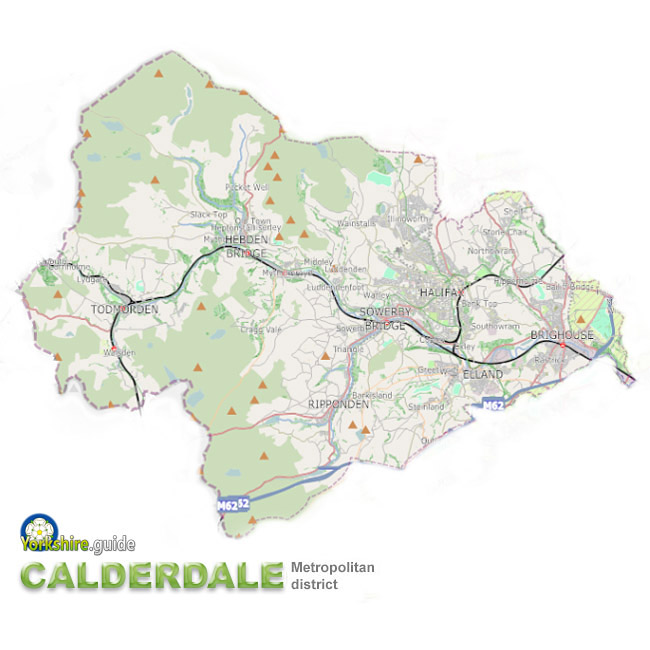 Calderdale Council

Calderdale Council is centred in Halifax and also covers many other towns and villages, principally along the upper Calder Valley, including Brighouse, Elland, Hebden Bridge, Ripponden, Sowerby Bridge and Todmorden.

Part of the district includes seven civil parish councils, four of which are small single ward councils.

Calderdale has 51 elected councillors, 3 per ward across 17 wards. Each councillor serves a 4-year term with one councillor per ward elected each year in 3 out of 4 years.

Link to council website

Calderdale Council
.
The political composition in April 2019 was:
The political composition after the May 2019 election is:
51 members
---
County strategic authority
West Yorkshire Combined Authority
Covers some combined services of the five metropolitan district councils of West Yorkshire - Bradford, Calderdale, Leeds, Kirklees and Wakefield - which were at one time provided by a West Yorkshire metropolitan county council, with the addition of the non-contiguous City of York council and unelected Leeds City Region Enterprise Partnership.


West Yorkshire Combined Authority website.

---
Police and Crime Commissioner
The Police and Crime Commissioner for West Yorkshire


Police and Crime Commissioner West Yorkshire website.

---
Fire Authority
West Yorkshire Fire Authority
The fire authority is made up of elected members of each of the five metropolitan district councils of West Yorkshire - Bradford, Calderdale, Leeds, Kirklees and Wakefield.


West Yorkshire Fire Authority web pages.

---
Ceremonial county
West Yorkshire

---
Historic
Municipal borough 1848-
County borough 1889-1974 (within the West Riding of Yorkshire)

---
Also in Yorkshire.guide
New
Places to visit
Gazetteer
---