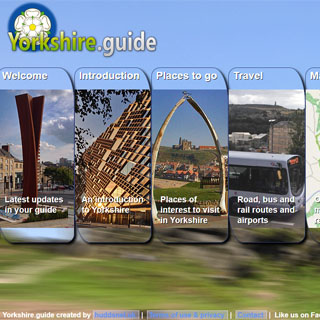 About Yorkshire.guide
---
Launched on May 16, 2016, Yorkshire.guide aims to provide an easy to use guide and knowledge base about Yorkshire and will be expanding to bring you all you need to know about Yorkshire coupled with its own growing picture gallery and detailed mapping system.
Yorkshire's so good there are many Yorkshire guides and websites with Yorkshire in their address, so please don't confuse us with others. There is only one Yorkshire.(< dot)guide - an independent publication aiming to provide visitors to and residents of all of the historic county of Yorkshire with a top-class, honest and impartial information .guide extending way beyond the domain of tourism.
The guide is brought to you through the extensive experience of huddsnet.uk, based in Huddersfield, West Yorkshire, which is now in its 22nd year on the internet and continues to provide web-based services across the region.
---
Contact details
Email
editor@yorkshire.guide
about content on the site.
Email
webmaster@yorkshire.guide
about technical aspects of the site.
---
Website terms of use
Use this link to read our website
terms of use
.
---
Cookies
We eat cookies, but we don't use them to store your browsing habits!
---
Privacy policy
We respect your privacy. Here's where you can find our
privacy policy
.
---
About our maps
Here's a few details about the Yorkshire.guide
maps
.
---
Home